Swedish Warmblood Breeders at Equine Affaire, USA
For four days (November 11 to November 14), Swedish Warmblood Breeders and Normandy Manor Farm, USA successfully represented Swedish Warmblood horses to an audience of over 105,000 horse enthusiasts.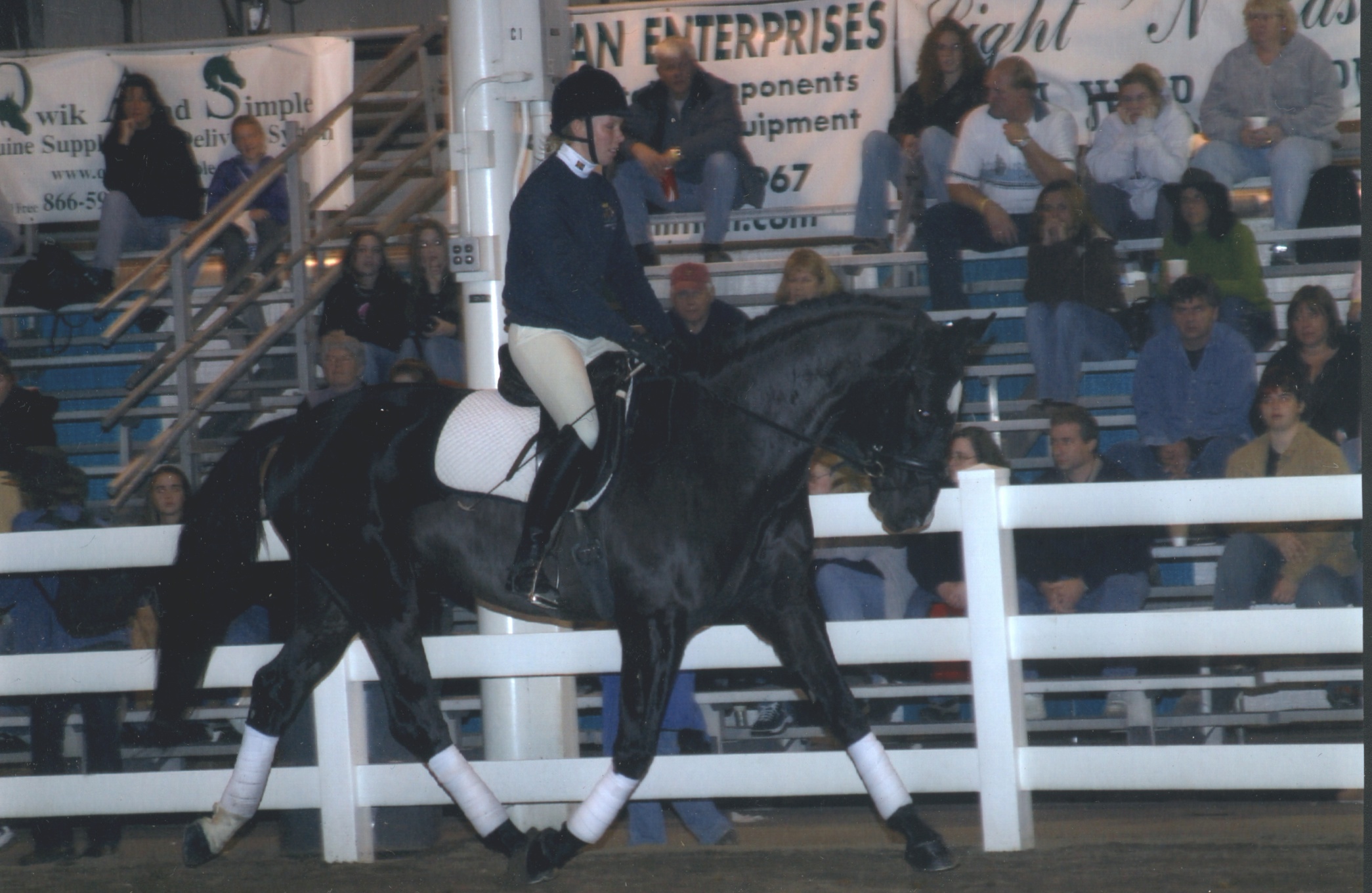 This is the third year that Swedish Warmbloods have been represented with a booth at Equine Affaire. "We had a double booth this year" states Deborah Borra, owner of Normandy Manor Farm who organized designing the booth and securing the space. "We also brought three horses with us this year to have in the booth stall so people could see and touch a Swedish horse up close".
By coincidence, every one of the horses that was brought had some Brabant/Drabant blood in the line a few generations back and every one of the yearlings that came with us were well behaved and walked into strange buildings, past all the colorful booths, on various types of footing, and did so with ease and quietness! People constantly remarked how beautiful, smart and well behaved our horses were. We brought two yearling fillies out of Brando mares and by our stallions Kardinal and Falcon and one seven year old gelding by Master. All were very elegant, modern type dark bays.
The horse that we took to showcase riding was the Master gelding named "Mambo King" out of "Drusilla". Mambo King was bred by Lars Christensson and imported into the United States through Deborah Borra with the help of Katri Wayrynen. Normandy Manor Farm sponsored Carola Engstrom, a student rider from Stromsholm Academy, to come and ride Mambo King at Equine Affaire both in the Swedish Warmblood Breed Demonstration and as a Demonstration horse for dressage in the Monty Roberts clinic in the large arena on Sunday morning with 4 other horses.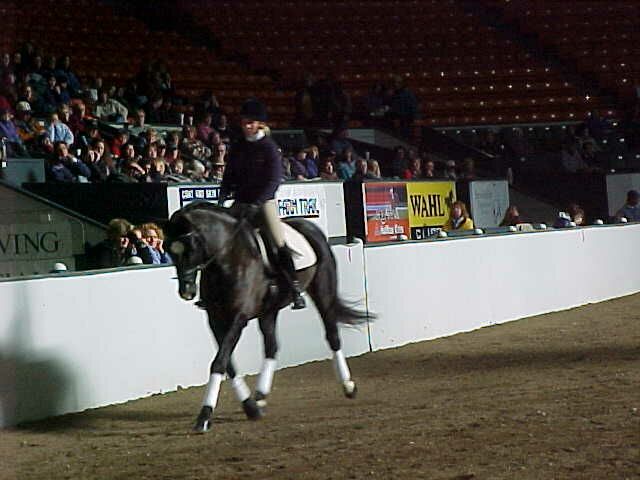 Mambo King at Monty Roberts Clinic
Mambo King and Carola were a big hit, riding into the arena to the song "Mambo Number 5". People were so impressed with his good gaits and quiet nature (and Carola's good riding) that many stopped by the booth later in the evening to meet Mambo and Carola and were singing the song! Having Mambo with us gave an opportunity to talk about the good nature of Master and the good gaits and good mind he passes to his offspring (and what the BLUP index is), along with information about Stromsholm Riding School and of course, the breeding programs both at our farm and in Sweden and the good cooperation that we share.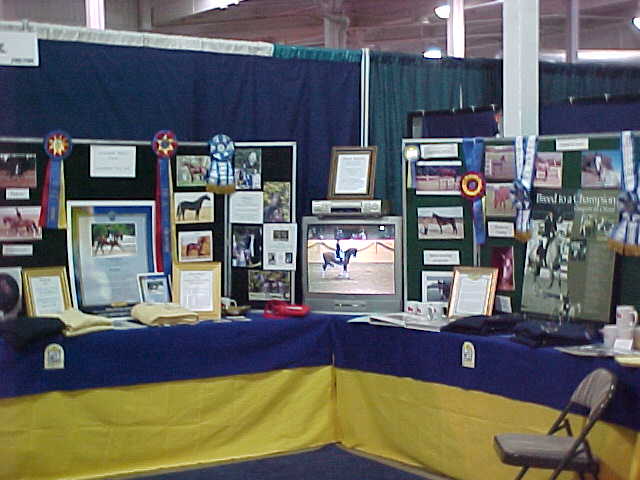 The booth featured information on stallions "Kardinal" (Kaliber), Falcon (Ganesco) which currently stand at Normandy Manor Farm as well as "Davinci" (Davignon) owned by Per-Arne Persson and represented in the US through frozen semen. The stallion Gauguin Du Cheval (Gauguin Du Lully), owned by Georgia Langsam was also represented along with various jumping stallions available through frozen semen.
Many good foals and young horses were represented for sale and information was given out about ASVH and Flyinge, (thanks to Mathias Bewersdorff who supplied us with good printed material) and breeding programs and practices in Sweden as well. We also showed videos on the big screen television set up in the booth for people to sit and watch good horses being ridden at their leisure. All was very professionally presented and coordinated in the Swedish colors. Breeder, Samantha Bailot from Maine came down to help us run horses in the breed demonstration and help man the booth - for which we are truly grateful! Her mom also came along to help - for the third year in a row!
Besides talking about the horses, the booth tries to give an insight into Swedish breeding practices to help raise the level of breeding awareness in the United States but also to make people feel at home with and have an understanding of Swedish culture. This year we designed and sold very many interesting items featuring the dalahorse and it was interesting that this one symbol brought so many Swedish/Americans into the booth to talk with us. Sue McKeown (and husband Brian, author of the hilarious book "Enter At "A" Laughing") stopped in to see us and to talk about her horse "Marshal" by Electron out of Anais which was imported by Linda Zang. Sue is currently competing Intermediare I with her horse. Brian kindly dropped us off a copy of his book, which I highly recommend to anyone involved in the dressage world with a sense of humor. It was really fun to meet the McKeowns and talk about their horse, especially since I had just talked with Linda Zang at our recent year end dressage competition in the Geneseo Valley, where she presided as one of the judges.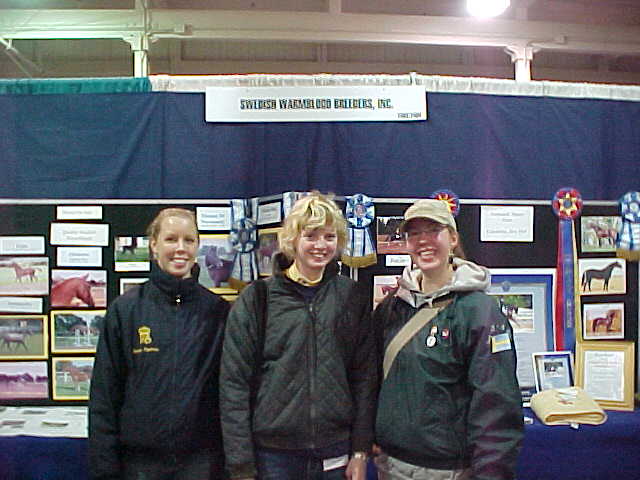 Along with student Carola Engstrom, we also had student Annika Sorling with us from Stockholm and Swedish exchange student Caroline Ugglesjo from Halmstad stopped into the booth to find a little bit of her own culture and to meet with us and see the horses! All of the students were immersed into American horse culture as they helped throughout the week and saw how here, in America, we are up against marketing our horses against many many other breeds and what a huge job it is to promote the horses and gain market share. Neighboring booths to ours were the Icelandics, (who had four booths and huge corporate sponsorship) and the Dutch booth (sponsored in part by VDL). Our one building alone had more than 30 breed displays.
Swedish Warmblood Breeders was incorporated an effort to raise the awareness of the Swedish Warmblood in the United States and to educate horse people about the breed and all of the possibilities that go with it. There was a small, serious group of people feeling that not enough was being done to promote the breed in this country and so we met and discussed what we could do and Swedish Warmblood Breeders was born. "At Equine Affaire, we are able to talk with very many people about the breed and answer any questions that they might have - which are many! We can show the horse in person to a very large group of people who otherwise may never see a good SWB horse working. The impression that we leave in their minds is an impression that benefits everyone involved with SWB horses. Educating the public about our breed is of the highest importance and it is a multifacted project which involves shows like Equine Affaire, good breeding farms to produce good horses and having the horses out in the public competing and winning with good riders. It must all work closely together and in a way in which we all work together for the benefit of the horse in the end. It is that level of professionalism that we show to the public that makes people think about buying or breeding a SWB."
Equine Affaire is just one of the projects undertaken. In January, an article co-authored by Deborah Borra about breeding mares will be featured in Practical Horseman Magazine, which will feature photographs of Swedish warmblood mares and foals.
We are currently seeking sponsors to get on board for next year's Equine Affaire so that we may raise the level again of promoting Swedish Warmblood horses and have yet a larger and even more informative booth at Equine Affaire with more horses and representatives of Swedish horses and culture. Normandy Manor Farm enjoys a good cooperation with various aspects of training and breeding in Sweden and incorporates them into the farm in Caledonia, New York. Normandy Manor Farm is currently the largest SWB breeding farm in the United States, home to more than 40 SWB horses, with 4 diploma mares and 2 stallions.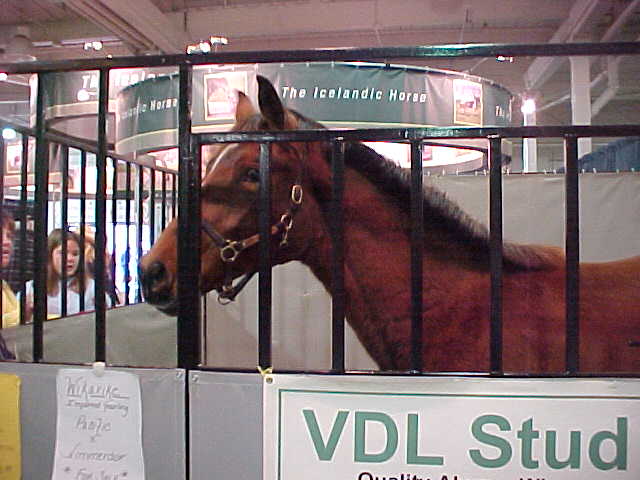 Equine Affaire is the largest equine gathering in the United States featuring both a trade show where you can see and purchase many new things for the horse and stable as well as attend many good clinics in all disciplines of riding and training. Here, the public can meet and speak with the clinicians, the authors of horse publications and the owners of manufacturing companies. The facility encompasses 6 large buildings full of displays (including one building full of every type of horse trailer and truck you can imagine) and three indoor riding rings. In the largest ring, the bigger clinics are held during the day and in the evenings, the Pfizer Fantasia Show is held for three consecutive nights (sponsored by Pfizer). The Fantasia is a 2 hour show which features various horse acts and breeds from around the world.
This year's Pfizer Fantasia featured a black Swedish Warmblood stallion named "Marcel" (owned by Robert Oury) performing a free style while loose and followed with the spotlight and his handler (Bartels ) guiding him only with longe whips as if to perform a ballet. The beauty of this horse and his beautiful expression brought tears to people's eyes. He was a very good representative of the breed to show how well bred they are for good temperaments and brilliance. The Fantasia ended this year with the Icelandics giving a big show with many horses, toasting the audience on horseback and of course, running in and out of the building at high speed at the tolt. Once again, they brought the house down with applause and people cheering loudly for the little horses!
We worked very hard this year - from taking the seven hour trailer trip from the farm in NY to Massachussetts, to setting up the booth and settling in the horses, to riding and caring for the horses and making sure they were shown to their best advantage in the public eye and then running the booth from 9 am until 7:30 pm daily for four consecutive days! I am sure that Carola had a lot to talk about when she returned to school and we thank her instructors at Stromsholm for allowing her to participate and be a representative for her school and country with us.
2004 was a huge success for promoting Swedish Warmbloods at Equine Affaire and we are looking forward to 2005 being even better!